Great News! - 2nd NOS/OEM Comfortweave Supplier Found !!!
I would like to thank Craig Selvey, Dan Hines, and Fred Carello for their input, pictures, and help in deciphering this information. - Roger
Until now, I am pretty sure most of us only knew that SMS Auto Fabrics, was our only supplier for NOS/OEM Maverick/Comet Comfortweave
knitted Vinyls, for re-upholstering our deluxe seats.
After doing alot of research on comfortweave, and with the help of others, I was able to learn more about the stuff. I searched and
searched...then bingo! I located a second company in the United States that has stock of some of the colors.
This Company is "Original Auto Interiors", and they are located in Columbus Michigan (full info below). You will have to call or email
them to see if they have stock of your particular trim color, but I know they have stock of black comfortweave, like in Craig Selvey's,
Dan Hines', and my 71' seats.
I want to say that I had sample swatches sent to me from BOTH SMS Auto Fabrics, and Original Auto Interiors, and BOTH companies were
very polite, and nice to deal with. I am endorsing these two companies equally, as I am thrilled that we have yet another company
supplying us with this dwindling, and rare material. I only did this search because I was afraid the last of the material would die out before I had a chance to do my restoration, and I wanted to give myself, and others a safety net, for doing factory style restorations for our Fords.
I took a photo of 3 of the same type of black comfortweaves, laid together for comparison. These three include my original 71 Grabber seat, the SMS swatch sample, and the Original Auto Interior swatch sample. This is what I noticed:
1. They are basically the exact same material.
2. They are made of individual woven strands of grey and black.
3. If you strip, any of the 3 samples, with a wire cutter, you will find tiny white nylon strands inside of each individual
comfortweave strand. This told me the two NOS samples were factory correct, even on the inside.
4. The Original Auto Interior sample has a more vibrant color of black under normal light, and under a camera flash, as you can see if
you look closely at the pictures. This is most likely due to variations in original runs, or possibly the way they were stored. No UV protectant or teflon spray has been applied to any of these materials. All of these materials are over 30 years old plus.
5. For any of those that have never seen black comfortweave in person, it looks black from a distance, and as you zoom in it looks like Dan's photo. It also takes on a grayish look with a flash camera picture.
There were 4 Maverick/Comet 1971 (Diamond Pattern) Deluxe Knitted/Woven Vinyl Comfortweave Inteior Trim Code Colors: (Detroit Book Cross-Reference and photo shown below)
Mav/Comet - 8A - Black - Deluxe Woven Vinyl Bucket - Number 1162 in pictured Detroit Book. (*in some cases 1227 in the Mustang row)
Mav/Comet - 8B - Medium Blue - Deluxe Woven Vinyl Bucket - Number 1159 in pictured Detroit Book.
Mav/Comet - 8E - Vermilion - Deluxe Woven Vinyl Bucket - Number 1160 in pictured Detroit Book.
Mav/Comet - 8Y - Gray Gold - Deluxe Woven Vinyl Bucket - Number 1161 in pictured Detroit Book.
--------------------------
The Mustang Comfortweave cross-reference (bottom row in Detroit Body Book swatch page) is as follows: (letter trim codes vary by year)
Mustang - Black - Comfortweave - Number 1227 in pictured Detroit Book.
Mustang - Medium Green - Comfortweave - Number 1231 in pictured Detroit Book.
Mustang - Red/Vermilion - Comfortweave - Number 1228 in pictured Detroit Book.
Mustang - Medium Ginger - Comfortweave - Number 1230 in pictured Detroit Book.
Mustang - White - Comfortweave - Number 1229 in pictured Detroit Book.
* The Mustange style comfortweaves were also used in the 71' Mavericks/Comets, but it seems the "diamond" pattern comfortweave was more common in the Mavericks/Comets of 1971.
-------------------------------------------------------------------------------
Below is pictured a page from a Detroit Body book. Two of the best resources for information on Factory Fabric is:
Detroit Body
http://www.detroitbodyproducts.com/
and Edward B. De Leo, Inc.
http://www.deleoco.com/ebdl/index.php?page=home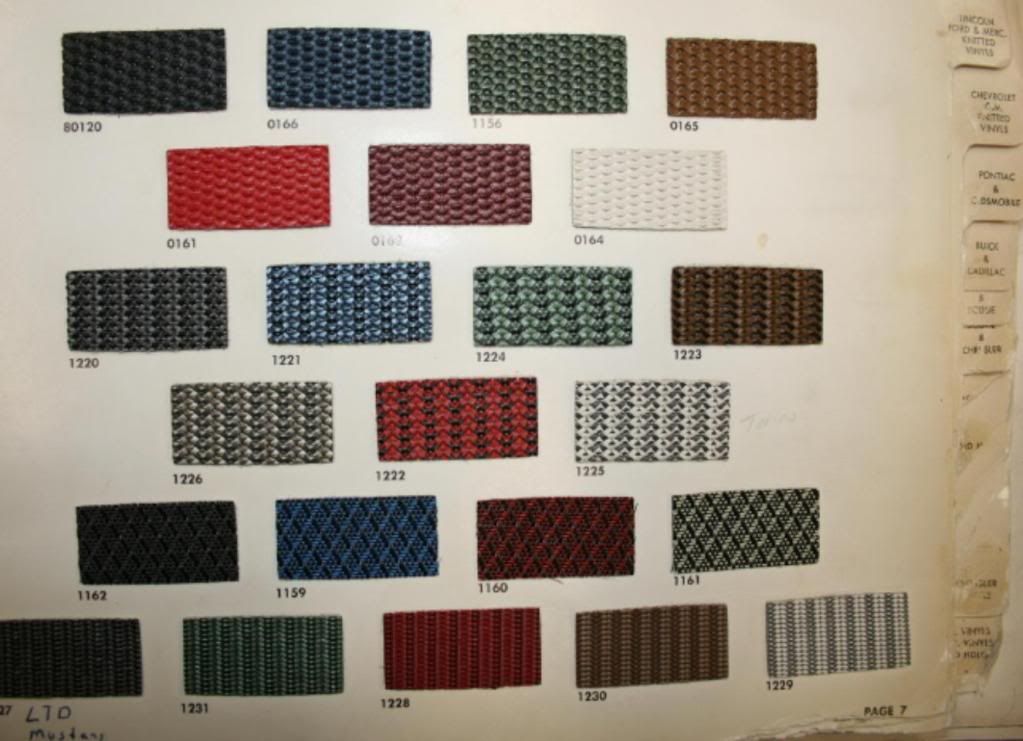 ---------------------------
I want to thank Dan Hines for posting the first really really zoomed in picture of the black comfortweave material. This is what made
me more curious about it: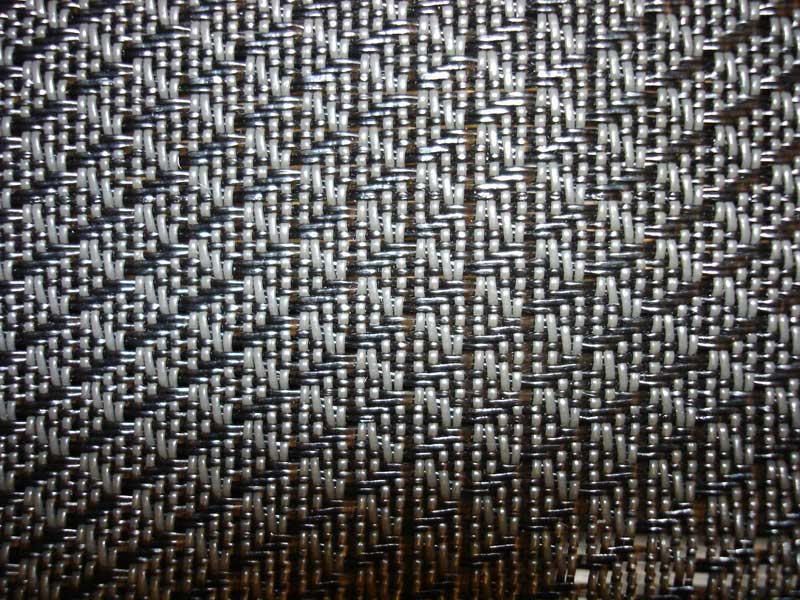 I want to thank Craig Selvey for answering numerous questions about the material, and for the extra pictures he took for me. Craig's
pictures show that, as most of you already know, that the deluxe comfortweave on the seats, and the deluxe pattern on the door panels
are not the same thing. The deluxe weave door panels are a "basketweave" design that is embossed into the vinyl.
I want to thank Fred Carello for all of his emails and help about re-upholstering my seats with this material. Fred is the one I am
going to have re-upholster my 71 comfortweave seats, when I have the budget for them! His work looks amazing! (see below) If you are having Fred do your seats, you might as well have him order your material, so he has it all right there in his shop together from the get-go.
Here is a great example of another member's seat covers by Fred Carello:
----------------------------------
OEM/NOS Comfortweave suppliers for Maverick/Comet/Mustangs/etc (check supply):
Original Auto Interiors
7869 Trumble Rd.
Columbus, MI 48063
Phone 586-727-2486
http://www.originalauto.com/
-------------------------------
SMS Auto Fabrics
350 South Redwood St.
Canby, OR 97013
Phone 503-263-3535
http://www.smsautofabrics.com/