[ ARCHIVES ][ TECHNICAL ][ ARTICLES ][ MY GRABBER ][ PARTS ][ LINKS ][ SITE INDEX ]
Front Disc Brakes on a Maverick or Comet
TECHNICAL ARTICLE

---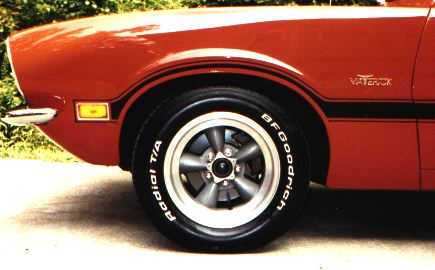 [ Interchange Guide | What You'll Need | How To ]

---
When the Maverick was introduced in 1969, it offered no power brake option. Because Ford offered disc brakes only on power-brake equipped vehicles, there was no easy way to offer a disc brake option on the Maverick. It was too cost-prohibitive to engineer disc brakes for an economy car.
In 1974, the Mustang II was introduced, and it had front manual disc brakes standard. Ford used the Mustang II caliper and master cylinder on the Maverick (with a 5-lug rotor) and offered manual discs as an option in 1974. In 1975, the Granada was introduced with power disc brakes optional. Therefore, in 1975, the Maverick got not only the Granada's power disc brake option, but the Granada's manual brake system as well. The Granada had bigger calipers and a different master cylinder. So, 1974 disc brakes are based on Mustang II & Pinto hardware, while from 1975-1977, Granada hardware was used.
This article shows how to put disc brakes on your drum-equipped Maverick or Comet.
---
When performing this swap, it is necessary to change spindles. The following cars have spindles that will bolt directly to a drum-equipped Maverick or Comet:
1974-1975 Maverick or Comet with disc brake option
1976-1977 Maverick or Comet (All)
1975-1980 Ford Granada or Mercury Monarch (All)
The Granada & Monarch may require the use of tie-rod ends from the donor car.
When the spindles are used on a manual-steering Maverick or Comet (regardless of whether the donor car was PS or not) the tie rod ends do not need to be changed. When the spindles are used on a Maverick or Comet with power steering, the tie rod ends may need to be swapped.
---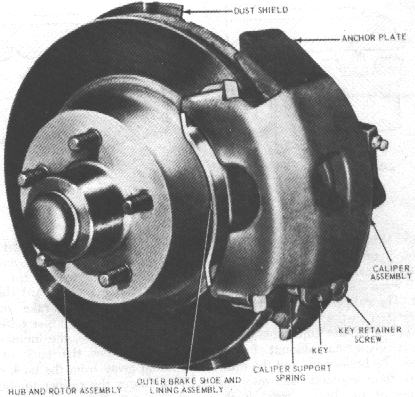 You need several items from the donor car, whether it is a Maverick or not. These items are:
Spindles
Calipers
Rotors
Master Cylinder
Tie Rod ends (optional)
Junction Block (aka Proportioning Valve)
Any applicable lines (master cyl to proportioning valve, etc)
Brake hose brackets (2)
Several of these items you'll want to replace. Master Cylinders are inexpensive, but you may want to nab the donor car's to use as a core if it is cheap or free. The calipers should be replaced or rebuilt if the donor car has not been on the road recently. New brake hoses are a must. The rotors should be turned or replaced. Remember, this is your braking system, your car's most vital part!
---
Once you select a donor car, you must remove the spindle. This job requires a cotter pin remover (or pliers), a hammer, and some big wrenches (or a big adjustable wrench). A prybar and pickle fork set will come in handy as well.
You can remove the entire assembly without taking it apart. Remove the brake line, and remove the brake hose bracket, you may need it. Remove the cotter pins & nuts from the tie rod ends and upper and lower ball joints. This is where the hammer will come in handy. You'll have to bang on the spindle (Not the ball joint) until the joint is loose from the spindle. Use the prybar and/or the pickle fork to persuade it loose. The same goes for the tie rod end.
Assembly is much simpler than disassembly. Simply bolt the new spindle onto your car. Then pack the wheel bearings and replace the rotor, caliper, and pads.
When connecting the brake lines, you may find that the line is too short. In some cases, you'll need to bend your existing hard line to match up with the disc brake hose. Use the brake hose chassis bracket you salvaged if necessary.
You need to change the master cylinder & junction block as well. Be sure to bench bleed it before installation.
NOTE: The fittings may be different on the master cylinder, junction block, or both. Be careful to note this when you get the parts. If so, you must cut the lines, install the correct fittings, and reflare. Another less-desirable option is to buy adapters.
After everything is together, bleed the system very thouroughly, because it was opened in several places. It is advisable to bleed the system until all traces of dirty fluid have been flushed out.
---
Your braking system will not only stop your Maverick or Comet better, but will be much more fade resistant as well. I installed 1980 Granada front disc brakes on my 1970 Maverick. If you have any questions or suggestions for this article, feel free to contact me on the Maverick Message Board.
---