[ ARCHIVES ][ TECHNICAL ][ ARTICLES ][ MY GRABBER ][ PARTS ][ LINKS ][ SITE INDEX ]
Late Model 302 into a Maverick or Comet
TECHNICAL ARTICLE
---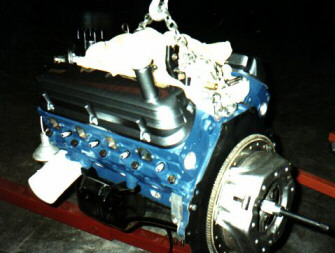 [ Why a late-model 5.0? | Balancing Differences | Using a stickshift | Cam & Firing Order | Misc. ]
---
Why a Late Model 5.0L?
Over the years, Ford improved the 302 to meet the ever-increasing demands of emission and performance standards. The 302 made 225 horsepower in 1987, its highest rating ever. Fuel injection was not the only reason for the increased performance. In 1982, the Mustang GT was revived along with the 302 2V. "The Boss is Back" ads proclaimed. The new 1982 302 was improved in every way. A new 50 oz balance, new, lighter block casting and a new alumimum intake were the major differences. In 1983, the 302 became the 5.0 HO with a 4V, and a legend was born. The 1985-1995 HO engines boasted a roller cam, 2-pc fuel pump eccentric, roller timing chain, thinner rings, and much more power. All of these parts make the engine more efficient and allow it to make more power while still getting good fuel mileage.
Granted, an older 302 can be made to be just as efficient as a later model engine, but if you are looking for a powerplant, why not start more towards the end of the 302's evolution?
This article will explain how to get a later 302 into your Maverick or Comet.

NOTE: All 351W engines have the 28 oz imbalance, so keep in mind that these guidelines do not apply to them.
---
Balancing Differences
The 1968-1979 302s (and all 289s/351Ws) used a 28 oz imbalance. The 1982-up 302s use a 50 oz imbalance. What this means is you cannot use a flywheel, flexplate, or harmonic balancer from an old 302/289. Swapping the balancer and flexplate/flywheel WILL NOT WORK because the crankshaft is a different balance.
This is generally not a problem when using an automatic transmission, just be sure that your flexplate will fit in the bellhousing of your transmission. If it does not, you'll have to do some searching. This swap has become more and more popular, and aftermarket swap flexplates are available. Most machine shops can also balance your older flexplate/flywheel to the 50 oz imbalance.
---
Using a Stickshift
Beginning with the Mustang II, Ford started using a cable clutch instead of a mechanical linkage. So when they redesigned the 302 block in 1981 they left off the pivot point for the older mechanical linkage. This is a problem if you are using the factory mechanical linkage.
Total Performance sells a bracket for this purpose, but they are not difficult to fabricate. Here is a close up of mine (viewable in the top picture as well).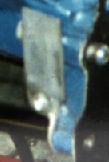 If you are swapping from an automatic to a manual, check out my Stickshift swap article
---
Camshaft and Firing Order
The firing order is determined by the camshaft in your engine. If you change the camshaft, then this information may not be valid.

There are three kinds of 302s made from 1982-2001.

5.0L HO This engine was used in 1983-1995 Mustangs, Mark VII Lincolns, and some T-birds and Cougars. All Explorer 5.0L engines are 5.0L HO engines as well. They use the 351W firing order, 1-3-7-2-6-5-4-8. Except for the 1983-84 Mustangs, all of these engines are roller cam equipped. They use a reverse rotation water pump and front cover. The 1994-5 Mustang and all Explorers use a unique front cover and water pump.
5.0L Full Size Car This engine was used in 1982-1990 Crown Victoria and Grand Marquis. They use the 289-302 firing order, 1-5-4-2-6-3-7-8. Most of these cars are not roller cam equipped, however sometime in the early 1990s they started using roller cams but retained the 302 firing order. They use a standard (clockwise) rotation water pump and front cover.
5.0L Truck (except Explorer) These engines are similar to the Full Size Car engines, except they use different intake manifolds and camshaft profiles. They also use the 289-302 firing order, 1-5-4-2-6-3-7-8. They also began using roller cams sometime in the early 1990s. They use a reverse rotation water pump and front cover.

ALL 302 5.0L engines from 1982-up have the 50 oz imbalance.

You can retrofit a roller cam in any of these blocks if they are cast with the roller lifter holddown bosses. These are two threaded bosses in the lifter valley. Most blocks after 1987 have these bosses, and 351W engines after 1995 have them.

---
Misc. Items
DISTRIBUTOR: You can use any 289-302 distributor. There are minor size differences but the older distributors will retrofit. You will, however, need a steel distributor gear if you are running a roller cam. The steel roller cam will eat the flat tappet cam's cast iron gear.
WATER PUMP / FRONT COVER: The older 302s all used standard rotation water pumps and front covers. All front covers will interchange, but do not use the incorrect rotation water pump (reverse rotation with std cover, or vice versa) or you will have overheating problems. The late model covers also do not usually have the mechanical fuel pump provision so keep that in mind if you do not want to run an electric pump.
INTAKE / EXHAUST: All intakes interchange between all 289-302 engines. All exhaust manifolds will interchange except 1998-up Explorer GT40P castings.
AIR PORT HOLES: The cylinder heads will have the rear bolts open to the exhaust. You can plug these with bolts or use the inserts used in the front of the heads (available from the dealer)
OIL PAN & SUMP: The oil pan will be a rear sump pan. These can be directly replaced with the older-style front sump pan and sump from OEM or aftermarket suppliers.
CLUTCH: As you can see in the top picture I used the older 3-finger clutch. The flywheel is not drilled for this, but I had it redrilled and tapped. Since I have converted to the late model 10.5" clutch that the flywheel was originally drilled for. It is a diaphram style and much stronger. The only modification needed was shimming of the clutch pivot.
---
I swapped a 1987 Mustang 5.0L HO into my 1970 Maverick originally equipped with a 250 I6. I am running a Ford Duraspark distributor triggering a Holley ignition, and a Weiand Stealth manifold with a Holley 750. Behind the engine is a T5 which replaced my toploader. If you have any questions about this swap, feel free to contact me on the Maverick Message Board.
---